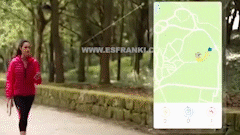 The Pets GPS Tracker offers you unlimited peace of mind knowing where your pet is at all time of the day.  
Its smart and portable design fit perfectly on your pet's collar, and its easily control via your smartphone using high precision GPS technology. 
FEATURES:

Real-Time Location Tracking: Our pets GPS tracker uses advanced GPS and cellular technology to pinpoint your pet's real-time location anywhere within 0-100 feet distance.
Two-Way Notification: The two-way notification function will let you track lost pets or be notified when they are out of range with a ring or flash.
Waterproof Case: Engineered with waterproof cases that go anywhere with your pet, even swimming.
Lightweight & Compact Size: Designed with compact size, lightweight and easy to carry like accessories on your pet's collar.
Long Lasting Battery: Our tracker has the longest-lasting battery of its kind and can last up to 7 days. Full recharge only takes 2 hours.
SPECIFICATIONS:
Material: ABS
Color: Black/White/Red/Green/Blue
Size: 52 x 31 x 11mm
Compatible Device: iPhone (iOS 7.0 or later), iPad Mini, iTouch 5, iPad 3/4 and Android (Android 4.3 or later)
Bluetooth Version: 4.0
Battery: CR2032 Lithium coin battery (replaceable)
Finder Distance: 0-100 feet