Now, you only use wireless silent electric pulse cervical massage  for
15 minutes

each day for the best results . And try not to let it put you to sleep while

using it to reclaim mobility during work breaks

.

Meanwhile,Intelligent Portable Neck Massage,it will save hundreds per year in expensive pain-relieving treatments and countless hours of lost time. Yes, you will like it!
The electric portable wireless neck massager simulates real human massage to help relieve neck soreness, shoulder tiredness, body tension, improve sleep quality and promote blood circulation. Wetting the neck where the two metal pads come in contact before use will make you feel the massage more intensely.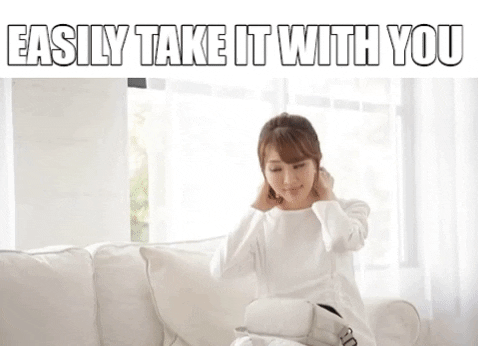 Smart Electric Neck and Shoulder Massager from the unique combination of heating, acupuncture and electro-stimulation which reduces stress and tension is the perfect-sized portable device to provide relaxing therapy at the desk , on the commute on the recliner or in the bed.
★   Comfortable and durable:

Made from medical grade silicone, Smart Neck and Shoulder Massager gives you the most comfortable feeling while taking away tension and pain.
Intelligent 3D suspension design and 4-point fixed design (2 suspension electrodes and 2 silicone sides), to perfectly fit your neck.  
304 medical steel features high electrical and thermal conductivity and excellent corrosion resistance. 
Sweat-proof and dust-proof, easy to clean.
★   Small, lightweight and portable:

With weight only 160g, Neck and Shoulder Massager is ideal using while commuting, shopping, reading, watching TV or doing everything you like. 
Take it with you whenever you go, does not take much space in your handbag or drawer. Use it anytime and anywhere.
★  Comfortable to wear :

Skin-friendly, breathable soft silicone material, no pressure on the neck artery; Ergonomic 3D designed, fits the physiological curve of the neck. The circular traction function gradually adjusts the cervical posture.
★   Versatile and effective to provide relief from!!!!
✅   Neck pain
✅   Cervical stiffness
✅   Arthritis pain
✅   Knotted neck and shoulders
✅   Cervical nerve pain
✅   Pinched nerves
✅   Pain from poor posture
✅   Oedema and inflammation
✅   Headaches at the back of the neck
✅   Muscle spasms or sharp , shooting pain from trigger points
◕‿◕    Intelligent Neck Massager works by combining low frequency electrical impulses with consistent heat and TENS ( Transcutaneous Electrical Nerve Stimulation ) technology . As a result , problem areas experience more blood flow and the release of natural painkillers called endorphins
When your massage is done expect to have a fuller range of motion thats much closer to normal.
Q&A
Question:
My neck is a little thick, I am not sure if it fits?
Answer:
3D floating metal patch design and the flexible silicone base makes the metal patch floating at 360 degrees, which can automatically adjust and fit different sizes.

Question:
Can I carry this on the airplane?
Answer:
Yes, absolutely! Also, it's a perfect way to relax your neck when you're on a plane.

Question:
What is the cause of some tingling feeling in the neck using the massager?
Answer:
The reason for neck tingling is because the user's skin is relatively dry, and the massager is not completely close to the neck. It is suggested prior using, wet the neck so that the massager can stick to the neck closely and increase the intensity of an electromagnetic pulse.

Question:
Can you have it with heat only?
Answer:
Yes, turn the intensity to the lowest after pressing the power button, then press the heating function only.

Question:
Does it vibrate or only give TENS style pulse massage?
Answer:
This massager doesn't vibrate. It uses TENS pulse with heat.

Question:
Do I need a wet towel on all the time during massage?
Answer:
If you have dry skin, we recommend dampening your neck before the massage to improve the experience. You don't need to keep a wet towel all the time. Alternatively, just use water base cream instead of water.

Benefits :
Small and lightweight
Cordless and rechargeable

Portable and use in the car, office, and at home

Easy to use by pressing the button on the remote control
Snug fit with stylish design
3 massage modes with 15 intensities to fit your need
Comfortable heating function
Durable and soft made from medical grade silicone

Shuts off automatically after 15 minutes

Easy to clean, no dirt hides
>>Supporting Goods Recommendation>>
NO.1    Cosamore Mini Massage Gun  . For only $169.00
NO.2   Bluetooth Audio Smart Sunglasses. For only $99.00
🚚High Demand - Please allow 2-3 weeks as demand is increasingly high on this product.
🔐Safe Payments - We use encrypted SSL certificates for 100% security.
✔Satisfaction Guaranteed - Money back guarantee.
📞Customer Support - Please only contact us if your query is not answered here: info@cosamore.com