Multifunctional Car Wash Nozzle with Soap Dispenser 8 in 1 High Pressure Garden Hose Nozzle Car Foam Wash Gun for Car Washing Pet Washing Window Cleaning Garden Watering.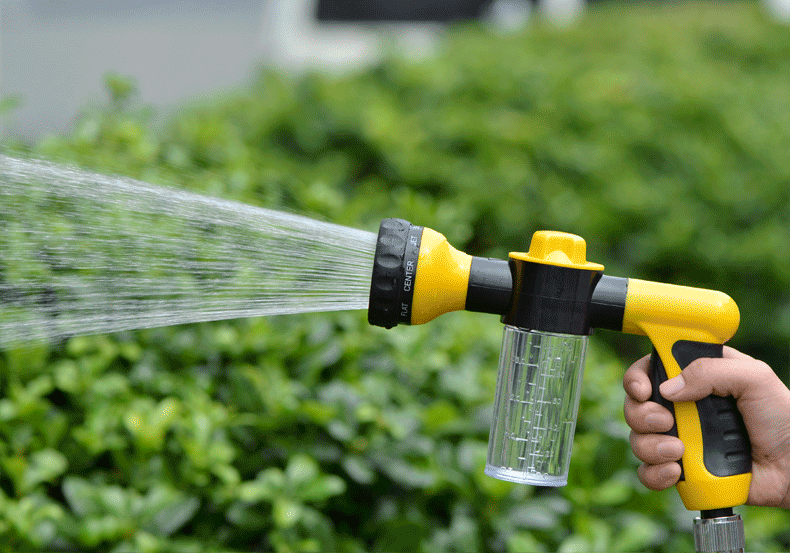 Garden hose foam nozzle with soap bottle is switched freely between foam and water, to give you the best and latest features Turn the hose foam nozzle dial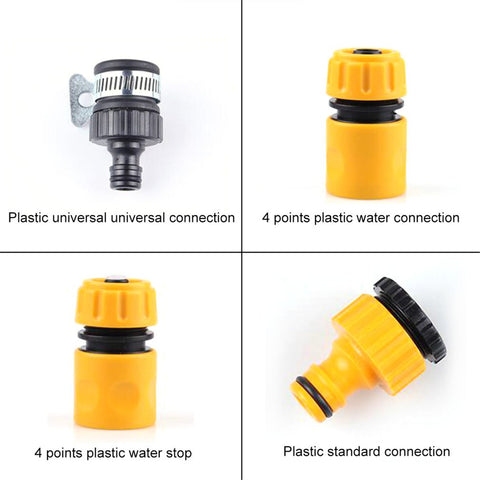 Features:
• Save time money and energy
• Car washing device for 35W-150W
• weight: 0.36kg
• pipe length: 10m
• Eight kinds of spray functions (mist, cone, rinse, stream, shower, jet, center, and flat)
Rubberized non-slip handles, rotating sprinklers, playful splashes, controllable foam, switch water, effortless effort. Suitable for use with 1/2 and 3/4 connectors.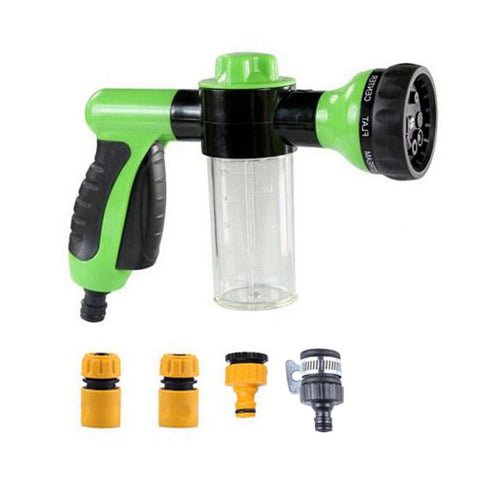 Multifunctional  Wash Gun with 8 kinds of spraying modes, it supports free option. As a time-saving and energy-saving tool, it will easily and conveniently finish task in a short time.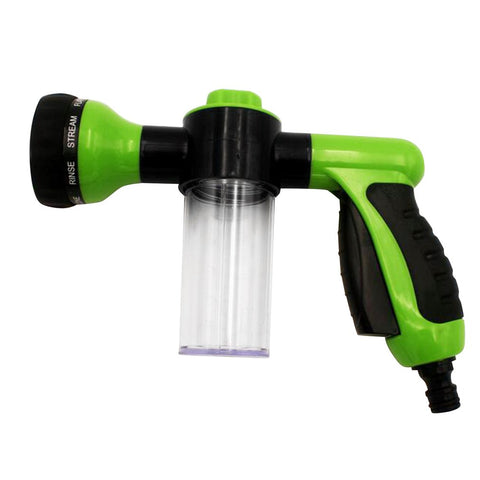 Best for Watering Plants & Lawn, Patio, Car Wash, Showering PetsNo need to keep squeezing the pistol front trigger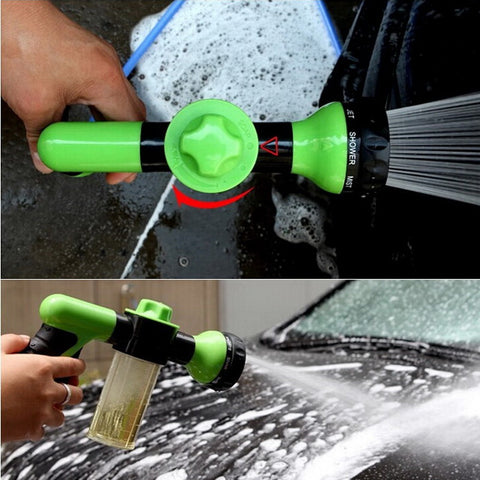 Built-in a foam container for holding plentiful water. It is in so moderate size and weight that is easy to use!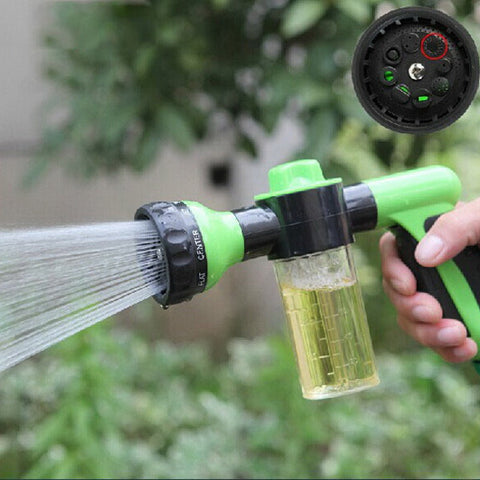 Benefits:
Can quickly and easily to give a clean car, save time, money and energy.

Adjustable spray settings. You can adjust the spray shape by revolving the rubber nozzle.

Special design foam storage allows you use in foam and water freely, multi-functional. 

No need to keep squeezing the trigger during spraying, helps reduce fatigue after longer use.

Perfect for cleaning motor vehicles, garden irrigation and animal cleaning, etc.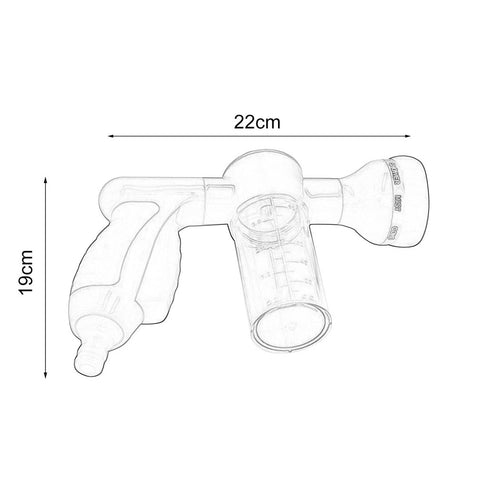 Specifications
| | |
| --- | --- |
| Material | PVC |
| Dimensions | (8.07 x 3.74 x 3.74)" / (20.5 x 9.5 x 9.5)cm (L x W x H) |
| Weight | 10.41oz / 232g |
| Color | Green |
| Spray Type | Mist, Cone, Rinse, Stream, Shower, Jet, Center, Flat |
| Handle Type | Palm Pressure Type |
| Save Time | Approximately 15 minutes Car Washing or Garden Watering |
| Save Energy | 0-15 meters Water Pressure into Momentum |
| Suitable for | Car Washing, Garden Irrigation, Road Cleaning or etc. |
Package Includes
>>Similar products you will love>>
NO.1 
Crafts Engraving Drill Bits
. For only $27.99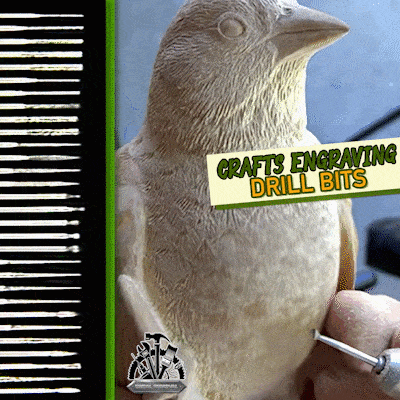 NO.2 
Stepping Stone Cement Concrete Brick Mould Road Paving Molds
. For only $33.56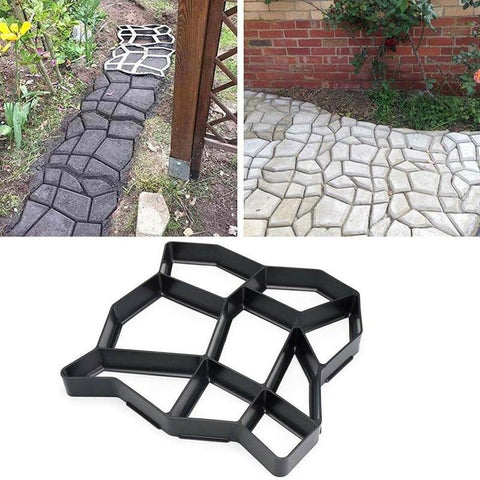 🚚High Demand - Please allow 2-3 weeks as demand is increasingly high on this product.
🔐Safe Payments - We use encrypted SSL certificates for 100% security.
✔Satisfaction Guaranteed - Money back guarantee.