SAY GOODBYE TO BLACKHEADS, BREAKOUTS & OILY SKIN FOREVER!
Blackheads are indeed our greatest enemy. Not only do they look dirty and oily, but are also very unfriendly to remove...
Using the wrong method to extract the pores might hurt your skin.
The powerful suction from our Blackhead Vacuum Removerunclogs your pores in a safe way and removes acne, blackheads, and dead skin instantly!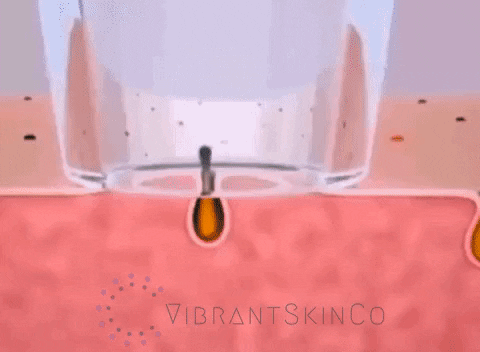 WHY USE OUR BLACKHEAD VACUUM REMOVER?
Sucks out blackheads

 

clogged in your pores to deeply cleanse your face.
Increases blood circulation for a fuller and brighter skin.
Get rid

 

of oils, whiteheads, blackheads, dead skin and more.
Treats dry, sagging skin and wrinkles to make you look younger.
Helps prevent breakouts and oily skin, leaving you worry-free.
3 intensity levels with 5 beauty heads to offer a deeper cleanse.
Safe to use

 for all skin types. Will not scratch or bruise like other pore vacuums.
The T-zone on your face is very sensitive...
Here is why you should use our Blackhead Vacuum Remover:
MAKE YOUR SKIN BREATHE AGAIN 
Experience the powerful suction that effectively removes impurities and dust particles in the pores, removes grease, blackheads & acne. It also exfoliates dead skin, treats sagging skin and wrinkles, shrinks pores & makes your skin breathe freely again!
All your dull and pale skin, as well as pigmentation, would also retain its natural form with our device. It has a suction greater than traditional comedo suction devices.
It has 3 levels suitable for all skin types as the different suction heads have different functions. It is a rechargeable, easy, durable and safe product (FDA & CE Certified).
HOW TO USE
Step 1:

 

Use a hot steamer (recommended) or a hot towel on your face for 3-5 minutes to open up the pores.
Step 2: Choose a suitable head. Press the power button and start with the lowest intensity first. 1-2 mins MAX will be recommended when using it for the first time. Move the blackhead cleanser back and forth around the pores, do not leave it in the same place over 3s in case of skin bruise.
Step 3:

 

Clean the face and use a toner or cold water to shrink the pores.
YOUR PACKAGE INCLUDES:
1x FabFavour™ Blackhead Vacuum Remover
1x Microcrystalline Probe
1x Oval Probe
1x Small Circular Probe
1x Big Circular Probe
1x Small Pointed Probe
1x Sponge
4x Silicone Rings
1x USB Charger
1 Year Manufacturer Warranty